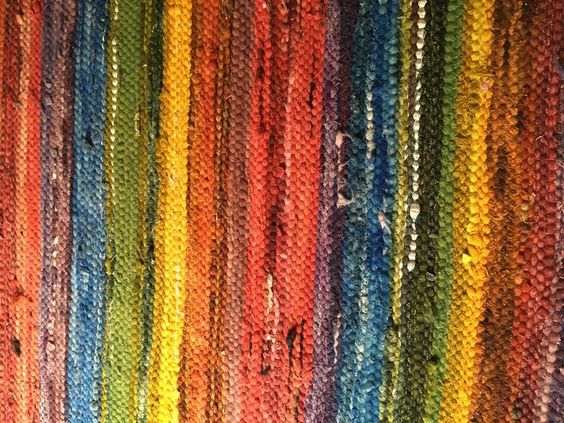 Weaving is the "method of interlacing threads to form a fabric". It usually involves the primitive tool known as the loom.
Though there are many types of weaving mechanisms, the theory is generally the same. Threads that run parallel and hold the tension on the loom are referred to as the warp. The weft (or woof) are independent threads that run perpendicular to the warp in an 'over and under' fashion. Together the threads can be woven in different ways, and uniquely designed fabrics can be formed.
Weaving as a Primitive Practice up until Present Day Times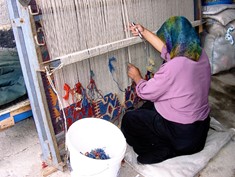 Weaving, alongside spinning and dying have been some of the main occupations in primitive cultures around the world for many years. Some experts say it falls second only to farming.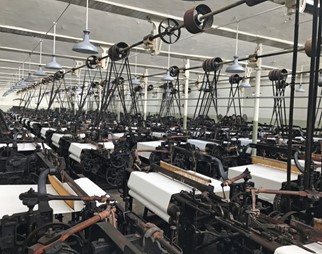 Living in the present day, means being immersed in a culture brimming with advanced technology. As a modern society, we are free from the seeming 'need' to pursue such practices. Since the industrial revolution, we have veered away from these methods and now rely heavily on machinery to do this work.
I think this is extremely sad and unfortunate. It feels like a disservice to us as culture of dynamic people! These rich weaving practices and methods of fabrication can bring so much joy and satisfaction.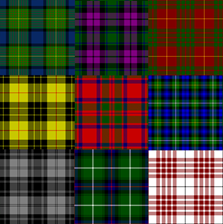 Weaving in particular, can tell the stories of tribes and families
Different styles of weaving, colour combinations of thread, and varying patterns can paint pictures of different times. It can tell stories of events and people all over the globe. In certain parts of the world, clans and families can carry on the tradition of wearing specific handwoven fabric for many decades, and even centuries. As well, weaving can be a medium for the creation of incredibly 'one of a kind' works of Fiber Art
Weaving Symbolism in My World
Handwoven Tapestry/Wall Hanging by Shad Bay Weaving, Nova Scotia
I love the practices of spinning on a spinning wheel and weaving on a loom. Hand dying my own wool always sets the stage for a rainbow of infinite possibilities!
Every day we are weaving our realities. It can be an ever flowing combination of light and darkness, success and challenge, joy and pain. As much as possible, I choose daily to spin positivity and hopefulness.
I choose to weave rainbows of inclusivity, compassion and diversity! My life is a tapestry of these rainbow threads, that I create and manifest through my choices and actions. I weave my dreams, prayers and hopes into the energy I put out and focus upon.
Weaving Inspires
Spoken word from 2020 – Christa Didham
I WEAVE
I weave
handspun threads into rugs
drumbeats into rhythms
notes into melodies
I weave
willow into baskets
words into poetry and song
I weave
dreams into life
LOVE into my relations
I want to weave
solutions
from all the problems on this planet
questions into answers
I want to weave
clarity from confusion
peace from unrest
one thread at a time
tiny like a needle from a pine
packed together
strung with twine
strength in numbers
as we all align
oh how we could shine!
one breath, one moment at a time
traditions from older days
these older ways
SO nourishing for the heart
keep it simple and get back to the start
weaving rainbow threads into primitive folk art
lessons in learning always arise
breathe through frustration
as we find our stride
tap into peace on the inside
let love guide
be gentle on the earth
and flow with the tides
be gentle on ourselves
and see how we THRIVE
into the deepest moments we dig and dive
for a simpler life
and for these moments of connectedness
I strive
I remember
to breathe deep and enjoy the ride
I weave
daily
and for the tapestry that is my life
I am grateful to be alive ❤︎